Misty Beach Specialties
The Hungry Whale Cafe's recipe for Clam Chowder attracts tourists to the town.
Famous Clam Chowder Serves 4 to 6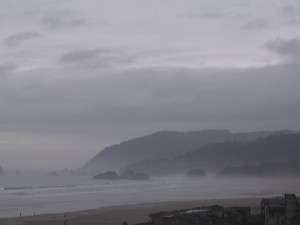 If you haven't been lucky enough to dig your own clams, you can use canned.
½ lb. bacon cut-up
1 minced medium onion (about ½ Cup)
2 medium stalks chopped celery (about 1 Cup)
2 Tablespoons flour
2 cans of minced clams (6 ½ oz each), drained. Reserve the liquor. (or 1 pint fresh clams)
2 medium potatoes diced (about 2 Cups)
1 quart half and half (or milk)
½ teaspoon salt or to taste
1/8 teaspoon pepper or to taste
Dash of garlic salt
In large, heavy skillet or 3-quart saucepan, fry the bacon over medium heat until crisp. Remove and drain bacon. Leave 3 Tablespoons of fat in the pan. Saute onion and celery in the pan over medium heat until tender. Add flour and stir constantly until mixture is bubbly–this keeps the chowder from tasting like raw flour. Gradually, stir in half and half. Add clam liquor. Heat to boiling, stirring constantly. Boil and stir one minute. Add potatoes and cook until tender, then add clams. If they're fresh, clams cook five minutes more. Stir in bacon just before serving.
.